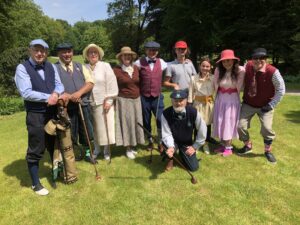 1ste Eyckenduyn Hickory Toernooi 18 mei 2023
Ondanks de late aankondiging van het uiteindelijke programma trok toch een gezellige groep hickory-vrienden en -vriendinnen naar dit toernooi op de knusse 9-holes baan Eyckenduyn. Naast onze eigen traditionele uitrusting was ook op de afslag de historie zichtbaar: een zandhoopje als tee! De dag werd van begin tot einde als super en voor herhaling vatbaar beoordeeld, ook door de organisatie van de golfbaan zelf. De Dutch Hickory Society staat hier niet onwelwillend tegenover 😉
Wedstrijdleider Erwin van Bergen had een grote verrassing voor alle deelnemers. Op basis van de uitslag mocht een door Erwin zelfgemaakte inschuifbare golfclub worden uitgezocht. Leg de club in de auto of in je reiskoffer en je bent altijd om een balletje te slaan 😊 De winnaars van de dag waren Brian Gee (bruto 69), Marjolijn Kempers (netto 65) en André Dubbeldam (netto 60).
1st Eyckenduyn Hickory Tournament 18 May 2023
A nice group of hickory friends to this tournament on the cosy 9-hole course Eyckenduyn, despite of the somewhat late announcement of the final programme. In addition to our own traditional equipment, history was also visible on the tee box: a pile of sand as a tee! The day was rated as super and worth repeating, also by the organization of the golf course itself. The Dutch Hickory Society is not unwilling to this 😉
Competition director Erwin van Bergen had a big surprise for all participants. Based on the results, a retractable golf club, made by Erwin himself, could be selected. Put the club in the car or in your travel case and you're always ready to hit a ball 😊 The winners of the day were Brian Gee (gross 69), Marjolijn Kempers (net 65) and André Dubbeldam (net 60).
 1. Eyckenduyn Hickory-Turnier 18. Mai 2023
Trotz der späten Bekanntgabe des endgültigen Programms besuchte eine nette Gruppe von Hickory-Freunden dieses Turnier auf dem gemütlichen 9-Loch-Platz Eyckenduyn. Neben unserer eigenen traditionellen Ausrüstung war auch am Abschlag Geschichte sichtbar: ein Sandhaufen als Abschlag! Der Tag wurde von Anfang bis Ende als super und wiederholenswert bewertet, auch von der Organisation des Golfplatzes selbst. Die Dutch Hickory Society ist dazu nicht unwillig 😉
Wettbewerbsleiter Erwin van Bergen hatte für alle Teilnehmer eine große Überraschung parat. Basierend auf dem Ergebnis konnte ein einziehbarer Golfschläger von Erwin ausgewählt werden. Legen Sie den Schläger ins Auto oder in Ihre Reisetasche und schon sind Sie immer bereit einen Ball zu schlagen 😊 Die Tagessieger waren Brian Gee (69 brutto), Marjolijn Kempers (65 netto) und André Dubbeldam (60 netto).
Sfeerimpressie van de prachtige parkbaan Eyckenduyn
Impression of the atmosphere on the beautiful Eyckenduyn park track
Eindruck von der Atmosphäre auf der wunderschönen Eyckenduyn-Parkstrecke
De winnaars
The winners
Die Gewinner