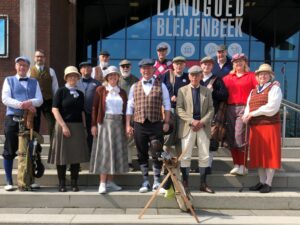 7de Nederlands Golfmuseum Open Hickory Toernooi 22 april 2023
Een enthousiaste groep van 15 hickory liefhebbers gingen van start op het 7de toernooi georganiseerd door het Nederlands Golfmuseum. Het weer was ons gunstig gezind op een enkel buitje na.
Er werd goed gescoord met als uiteindelijke bruto winnaars Kerstin Huck en Brian Gee, en de netto winnaars Helga Scholz en Jan Willem van EE.   
7th Dutch Golf Museum Open Hickory Tournament 22 April 2023
A group of 15 hickory enthusiasts started at the 7th tournament organized by the Dutch Golf Museum. The weather was favorable to us with just a little rain.
They scored well with the eventual gross winners: Kerstin Huck and Brian Gee, and the net winners Helga Scholz en Jan Willem van EE.
7. Dutch Golf Museum Open Hickory Tournament 22. April 2023
Eine begeisterte Gruppe von 15 Hickory-Enthusiasten startete beim 7. Turnier, das vom Niederländischen Golfmuseum organisiert wurde. Das Wetter war für uns bis auf einen kleinen Schauer günstig. Die Bruttogewinner sind Kerstin Huck und Brian Gee und die Nettogewinner sind Helga Scholz en Jan Willen van EE
De winnaars: Kerstin Huck (bruto 93) en Brian Gee (bruto 69)
The winners: Kerstin Huck (gross 93) and Brian Gee (gross 69)
Die Gewinner: Kerstin Huck (Brutto 93) und Brian Gee (Brutto 69)
Sfeerimpressie op de prachtige golfbaan Bleijenbeek
Impression of the beautiful golf course Bleijenbeek
Eindruck vom wunderschönen Golfplatz Bleijenbeek