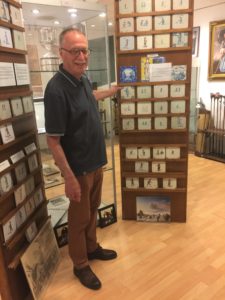 On Wednesday 23 June 2021, Do Smit visited the Netherlands Golf Museum. Not so much as a golf enthusiast (after all, he does not play golf), but as THE specialist in the field of Colf and Kolf.
Do Smit has been a member of the Heritage Committee of the Royal Dutch Gulf Federate (NGF) for many years with the
game forms Colf, Kolf and Malie as a focus area.
He is also webmaster of the former Webmuseum Colf & Kolf and compiler/author of the booklet Colf Kolf Golf, Early Golf – Vroeg Golf (the paragraphs Colf, Kolf).
During the guided tour given by John Ott and Ferd Vrijmoed, Do was pleasantly surprised that the Dutch Golf Museum also exhibited a Dutch Clique with balls and tiles with flask scenes in the museum.