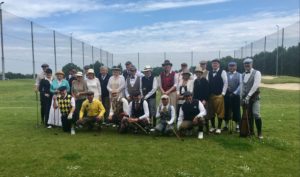 Twenty-seven hickory fans of 7 different nationalities, both pros and amateurs, dressed in hickory style, took on the challenge on The Mondial International Golf & Short Game Center.
After the 18-holes at the par 3 course, the in-between scores were discussed during a nice lunch. Refreshed and full of good courage, the company took up the glove again on the 9-holes Champions Course.
The day was given a very special finish by the sound of a bagpipe player at green of the final hole. But this day was not over yet!  The players were treated to an excellent dinner in the Hickory Room of the Clubhouse, where the award ceremony also took place.
Gustavo Barrios beat his colleague pros, with Brian Gee in 2nd and Iain Forrester in 3rd.
The first prize net score Ladies went to Barbara Kempers, with Hella Scholz in 2nd and Ria Frenken in 3 rd.
The first prize net score Gents went to Peter Scholz, with Clinton Radley in 2nd and Morné Pepler in 3rd.
An impression of the day can be found at  https://m.youtube.com/watch?v=wiMfNJVbcf8