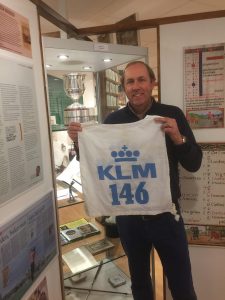 Daan Slooter, director of KLM Open and member of DE 144, has donated part of his KLM Open collection to the Netherlands Golf Museum. 
In 1978, Daan, eleven years old, kept the scoreboard during the Dutch Open. The following year he ran as a caddie.
He has kept all the relics from that time and the years that followed.
Program booklets, entrance tickets, player badges, caddie booklets, you name it. A unique collection that he recently donated to the museum. Objects with special memories.
Like a program booklet from 1980 of the Dutch Open in Hilversum, with the proud signature of the winner. Severiano Ballesteros, a Spanish golf professional who won the Dutch Open three times and for many years was among the very best golfers in the world.