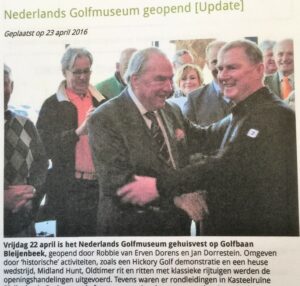 Thursday, April 6, 2023, we received the news that golf legend Jan Dorrestein has passed away at the age of 77. Jan Dorrestein was the first Dutch golfer to play full-time on the brand new European Tour. He also won numerous national titles and was also successful abroad. Above all, he was an amiable person and an excellent golf coach.
The Dutch Golf Museum has experienced it as a privilege that Jan Dorrestein (right in the photo) opened the museum in 2016 together with Robbie van Erven Dorens.
We wish the family and relatives a lot of strength.