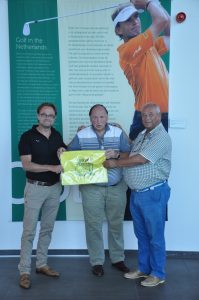 The Dutch Golf Museum experienced a memorable moment. Ferd Vrijmoed of the museum board, together with Dirk Jan Vink of golf course Bleijenbeek, received from Frans Fiolet the flag of the Masters 2015 with the signature of Joost Luiten, our best golfer ever.
The flag was donated to the museum by the Genootschap van Sportvrienden DE 144, an association of former Olympiad goers. DE 144 was founded in 1961 with the aim of continuing to follow the athletes after their sporting career and, where necessary or desired, to guide them in their often drastic life change.
Frans, who himself participated in the Olympic Games twice, received the flag from the president of the Society, Daan Slooter, after the DE 144 golf tournament on the Bleijenbeek estate.
The flag is framed and has been given a prominent place in the museum. The Dutch Golf Museum.