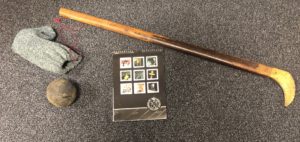 An old Dutch saying goes like this. "He has clique and ball". This means that he has everything he needs. This saying comes from the pump sport. Kolf is played with a Kolfstok called "Kolf" or "Kliek" and a ball.
Since November 2019, in addition to a Clique, the Golf Museum also has two Kolfballen and we have "clique and ball". Both balls are "gummi" balls and are about a hundred years old. Gummi balls are made of rubber (called gutta percha or gummi).
Kolf balls
The kolf balls were donated by Rob Jongewaard and Dirk Mulder. Rob Jongewaard is a member of the kolfsociëteit "Onder Vrienden" from Oudkarspel and is also a kolfball maker. He was offered the buttball to restore but the ball was no longer suitable for official match use. The other ball was donated by Dirk Mulder, member of the kolf society "Onder Ons" in Andijk. Deze bal is o.a. door de vader van Dirk gebruikt tijdens zijn kolfloopbaan. Bij deze bal zit ook nog de zak waar een kolfbal in wordt bewaard en vervoerd. De zak hing meestal bij een kachel zodat de bal altijd gebruiksklaar was. De zak werd vervolgens aan het stuur van een fiets gehangen om naar de wekelijkse Soosavond te gaan.
Kliek
The Kliek was donated in October 2018 by Mark Aberkrom from Venhuizen, former chairman of the Koninklijke Nederlandsche Kolfbond. The Kliek is composed of a stick (wood type unknown) and a brass 'slipper'. The slipper was usually manufactured by a local blacksmith and the local carpenter attached the stick with the length being tailored to the player.
Cliques are therefore all different in weight and height. The player searched for "A Kolfje for his hand".
The Kliek originates from the first quarter of the 20th century and from Drechterland in West Friesland. The Kolfspeler who played with this clique was left-handed and small in stature (given the length of the stick).