Start of the Dutch Hickory Tour 2022:
DGM Open Hickory Tournament 23 April 2022
                                                             
The traditional gala dinner on the evening before the competition offered a stylish, varied and very tasty four-course meal to an international group of fourteen people and was a harbinger of things to come.

And indeed on Saturday 23 April, after the reception of all guests in a reunion-like atmosphere for many, the group photo could be taken in a radiant sun. The mood of the 26 historically dressed participants kept pace with the weather and at noon the pro Iain Forrester was the first to hit his 100-year-old brassie against the quickly departing ball. The second turn, I won't name names, although Jan couldn't help it, also showed an enthusiastically leaving ball, immediately followed by the head of the club, which had unintentionally separated itself from the wooden hickory shaft. Jan got a new brassie even before his tee on hole 2 and it lasted up to and including hole 18.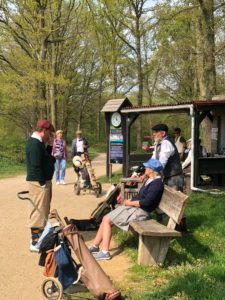 The combination course was played, namely the first nine holes of the Champions Course and the nine holes of the par 3/4 course with a par of 64, but that makes no difference to the number of strokes. About four hours later the flights trickled in.
Then the socializing on hole 19 started, also known as having a drink. This cherished obligation took place on an equally sun-drenched terrace, where tall tales once again prevailed against reality.
The award ceremony of the excellently organized tournament by Maria Vrijmoed and James and Angelica Fennel took place inside. Maria and Angelica handed out the prizes, but Maria had to miss out on one occasion. That was at the 1st prize net score among the ladies. She had won it herself (net score 72). So I was allowed to hand her that prize, which was nice, because I could give her a kiss. You have to be pretty careful with that these days. The 1st prize net score among the men was for Peter Scholz (net score 65).
The big winners of the challenge trophies from 1895 were Marja Kom in the women's category with a gross score of 86 and Brian Gee in the men's category with a gross score of 66.

Their names are immortalized again on silver rings around the shafts of the exchange trophies they won, which they had to return to Maria after the photo moment.
It was a day to remember!
Ferd Vrijmoed