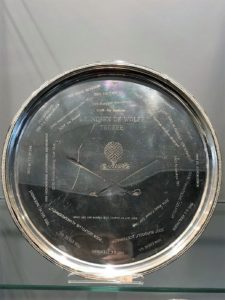 This silver bowl was an exchange trophy of the national mixed competition for senior members of A and B clubs with a high handicap and was awarded to the winners of the national final from 1991 to 2018.
As a thank you for the much work that the Arendsen de Wolff couple has done for the NGF for more than 20 years, this scale was named after them when this mixed competition was established. 
Winnie Goswin Karel Arendsen de Wolff had already died on 20 November 1987, but his wife Else Arendsen de Wolff-Exalto has always been awarding the prize ceremony in recent years. After her death on February 10, 2019, this match will no longer be played and the Dutch Golf Federation has donated the Arendsen de Wolff scale to the Dutch Golf Museum, where this grand trophy can now be admired.