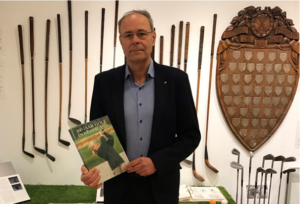 Jacques Schuiling from Elst (Gelderland) has been appointed secretary of the Netherlands Golf Museum as of 1 February 2021. The brand new secretary is no stranger to the golf museum, because he already made an important contribution to the museum before his appointment to the board. An audio tour with which the museum has made a big step forward. But there are many more plans ready, especially in the digital field. Can't do otherwise with his years of experience in the ICT industry.
"With the audio tour, the museum has made an important step to attract more audiences. Now it comes down to fine-tuning and taking further steps," says Schuiling, who is brimming with enthusiasm and beautiful plans after his first project for the museum.
"The Dutch Golf Museum is becoming more and more well-known and we are getting more and more donations.
We are currently working on making part of the collection digitally visible in a completely renewed website, so that you do not necessarily have to physically go to the museum. We have made business cards with a QR code on them that you can scan with your phone, after which you automatically end up on the museum's website and can see various objects there. They are framed with stories that trigger you to want to see them in real life."
See also the publication in De Nederlandse Golfkrant on the subject in question:
Golfkrant 34. Maart 2021 Nieuwe secretaris Golfmuseum