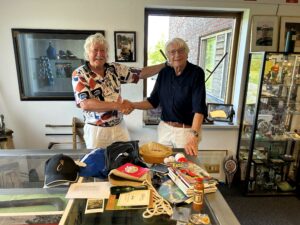 Prior to the Golfmuseum Cup, journalist Willem van den Elskamp came to chairman John Ott to hand him a number of Dutch Open items that he still had in his possession.
As a golf journalist, Willem has visited many Dutch Open editions and commented on the famous "Beat The Pro" events as a reporter. Now it was time to transfer a number of unique collector's items from the KLM Open and its predecessors such as Sun Microsystems to the Dutch Golf Museum.
On the photo Willem van den Elskamp (left) and John Ott with the donated items.