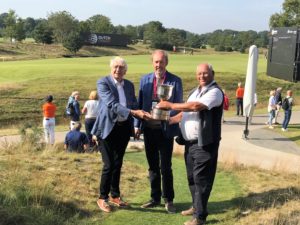 Fortunately, the Dutch Open cup arrived on time at golf course Bernardus Golf in Cromvoirt. Because otherwise we would have missed the beautiful pictures of the Dutch Open 2021 winner with the cup. Tournament director Daan Slooter received the cup from board members John and Ferd.
Due to corona measures, the Dutch Golf Museum could not be present in the sponsor village this edition. That is why John, Ferd, Maria and Jacques used the presentation of the Dutch Open cup to make it a day out. The beautiful Bernardus Golf golf course is a good place to be, especially with a warm sun above your head. And with up to 7,500 spectators, it's certainly not too crowded, so you can be close to everything.
In short, the tournament can soon be concluded with dignity, with a winner (who we do not know yet) who holds the Dutch Open cup triumphantly. And if his name is engraved, the change cup can be admired again in the Dutch Golf Museum. Together with his predecessors, the Burrows Cup (1915-1923) and the Boomer Cup (1924-1926).