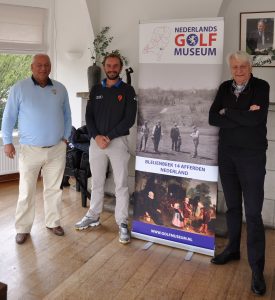 Joost Luiten, currently the only Dutch top golfer. The exchange cup of
the KLM Open has a place of honour in the museum.
Joost Luiten has a busy life. At least thirty-five weeks a year he is on the road to participate in the
most important golf tournaments in the world. In September of this year, he will participate in the KLM Open in his own country, at The Dutch in Spijk, Gelderland. Will he be able to keep the beautiful change cup?
Joost Luiten is relaxed, looks cheerful and talks easily. Does not have to play for two weeks. One
rarity in its existence. "In between tournaments, I take my rest. If you keep going, you run into injuries." But many of those periods are not there and even then he has obligations. Training, carrying out activities for sponsors.
And so there is little time left for friends, family and his girlfriend Melanie Lancaster, former racing driver. In his home in Belgium he rarely sleeps. A way of life that he takes for granted. "I'm used to living out of the suitcase and feel at home everywhere, as long as I have a bed and a shower. My friend has her own life, but if possible she travels with me, otherwise we would see each other very little. You have to be able to cope with being away from home a lot. There are also boys who have trouble with it once they have children. You can see them slowly sinking. An advantage I don't have them."
The KLM Open is his favourite tournament. Of the ten times he participated, he became champion twice. "If I'm in shape, I can win it. The great thing about this tournament is that you play in front of a home crowd and that goes well for me."
He warmly welcomes the fact that the Netherlands now has a golf museum and that the KLM Open cup has been given a place there. "We're not the biggest golf country and initiatives like this are helping to get the sport to a wider audience." Due to lack of time, he has not yet been able to visit it himself. "Then you can pick up the change cup yourself," curator John Ott suggests to him. It elicits a tasty laugh from him.
Lees ook het artikel in De Nederlandse Golfkrant over het betreffende onderwerp:
Golfkrant 3. Juni 2017 Joost Luiten (1)
Golfkrant 3. Juni 2017 Joost Luiten (2)