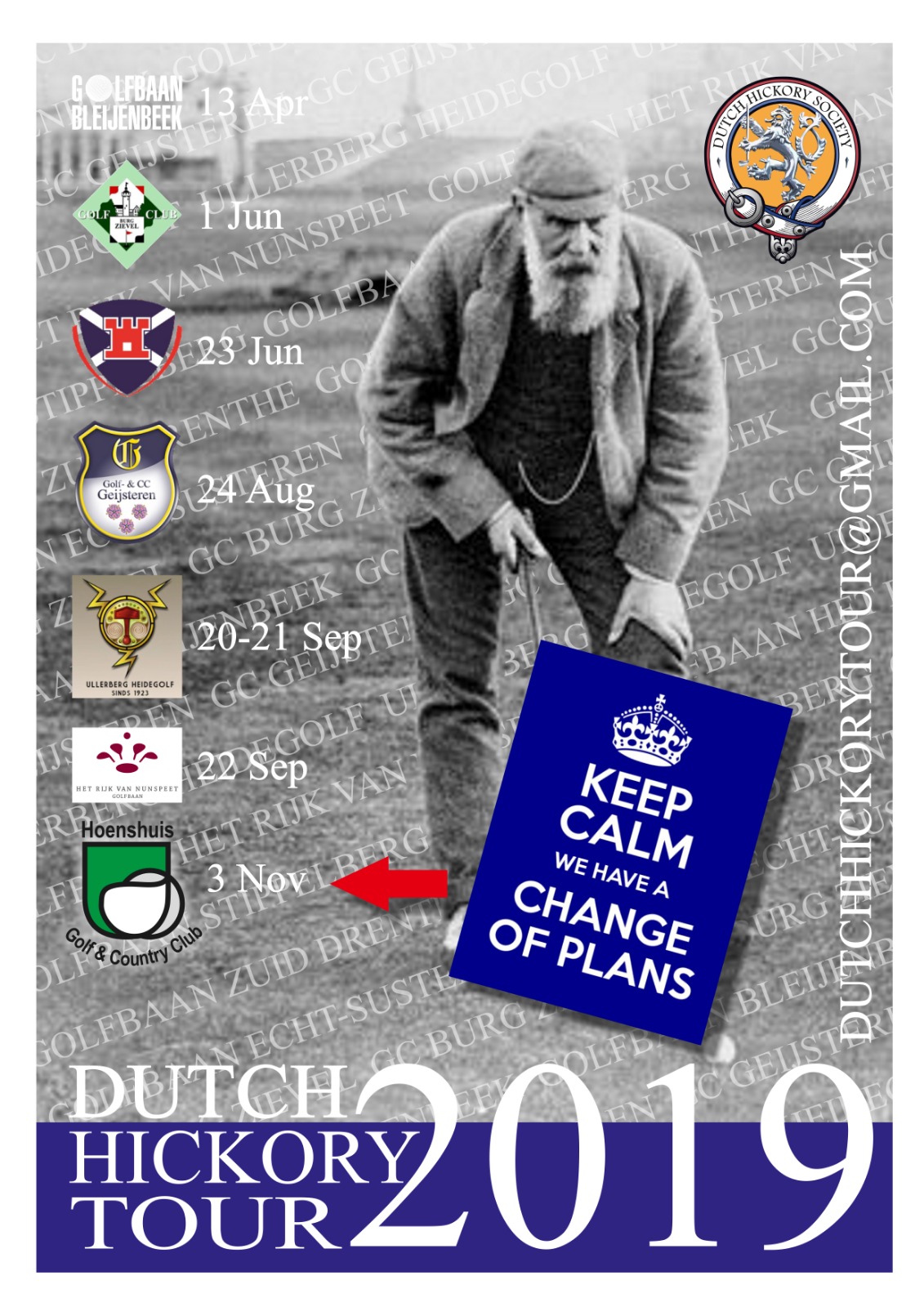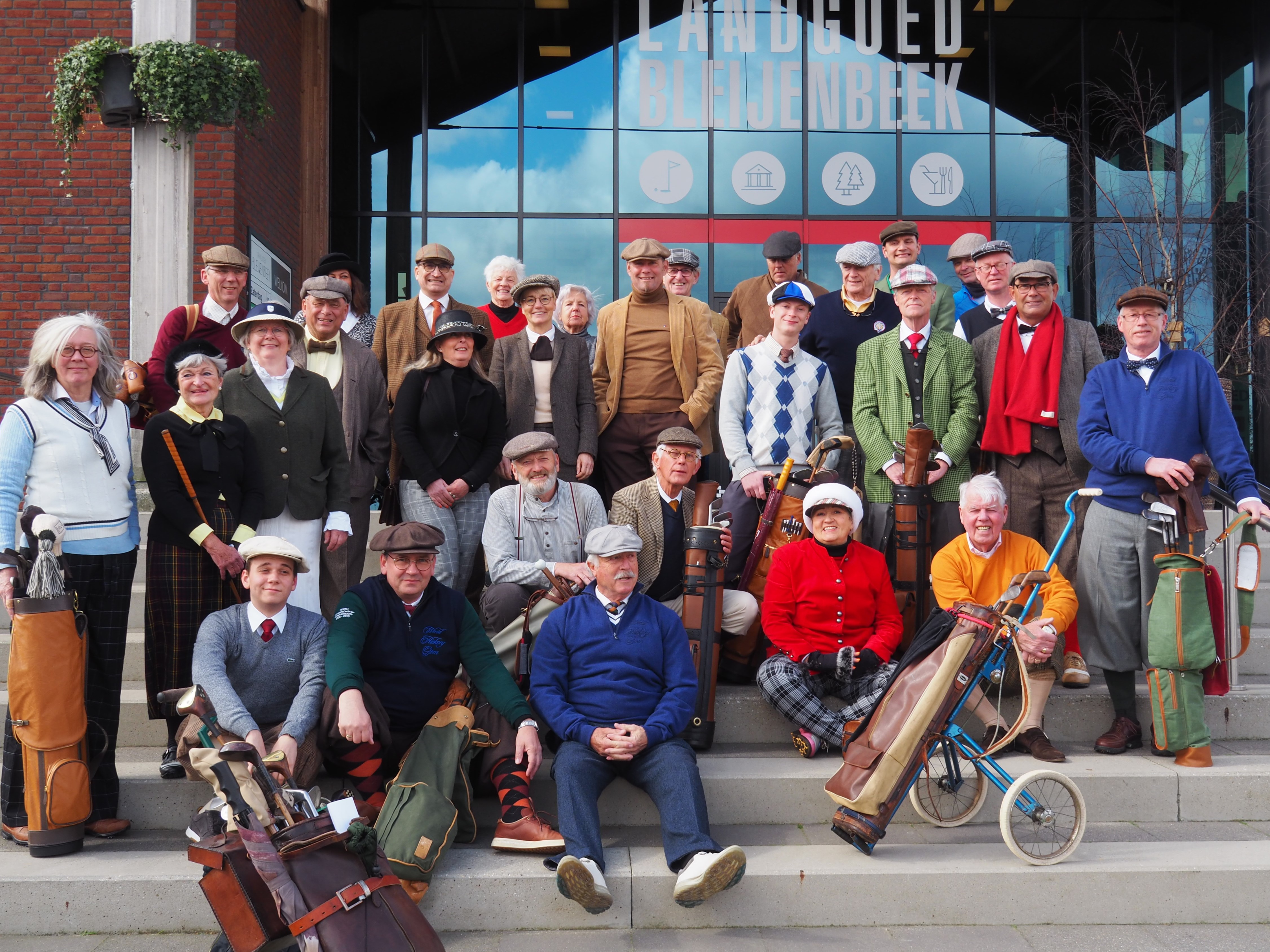 Dutch Golf Museum Open Hickory Tournament 13 April 2019: a great success!
The kick-off of Dutch Hickory Tour 2019 was played for the first time on the combination of 9 holes CC and 9 holes Par3/4. This made the tournament a great adventure even for the more experienced golfers.  The Golf Course was in good condition and, in addition, the weather played an interesting role: chilly with periods of sunshine and even snow. 
At the start of the day a reporter of the local television made the following video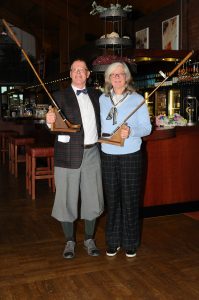 We congratulate Brian Gee and Lily Waller on their victory of best scratch score! Runner-ups were Erwin van Bergen en Marja Kom.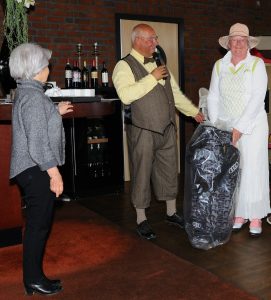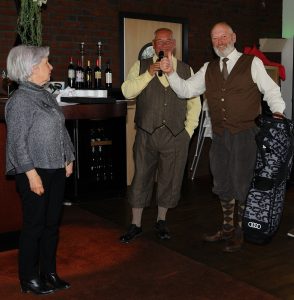 The best net score Ladies and Gentlemen were won by Maria Vrijmoed-de Vries and André Dubbeldam. Runner-ups were Petra Manders and Andreas Biste.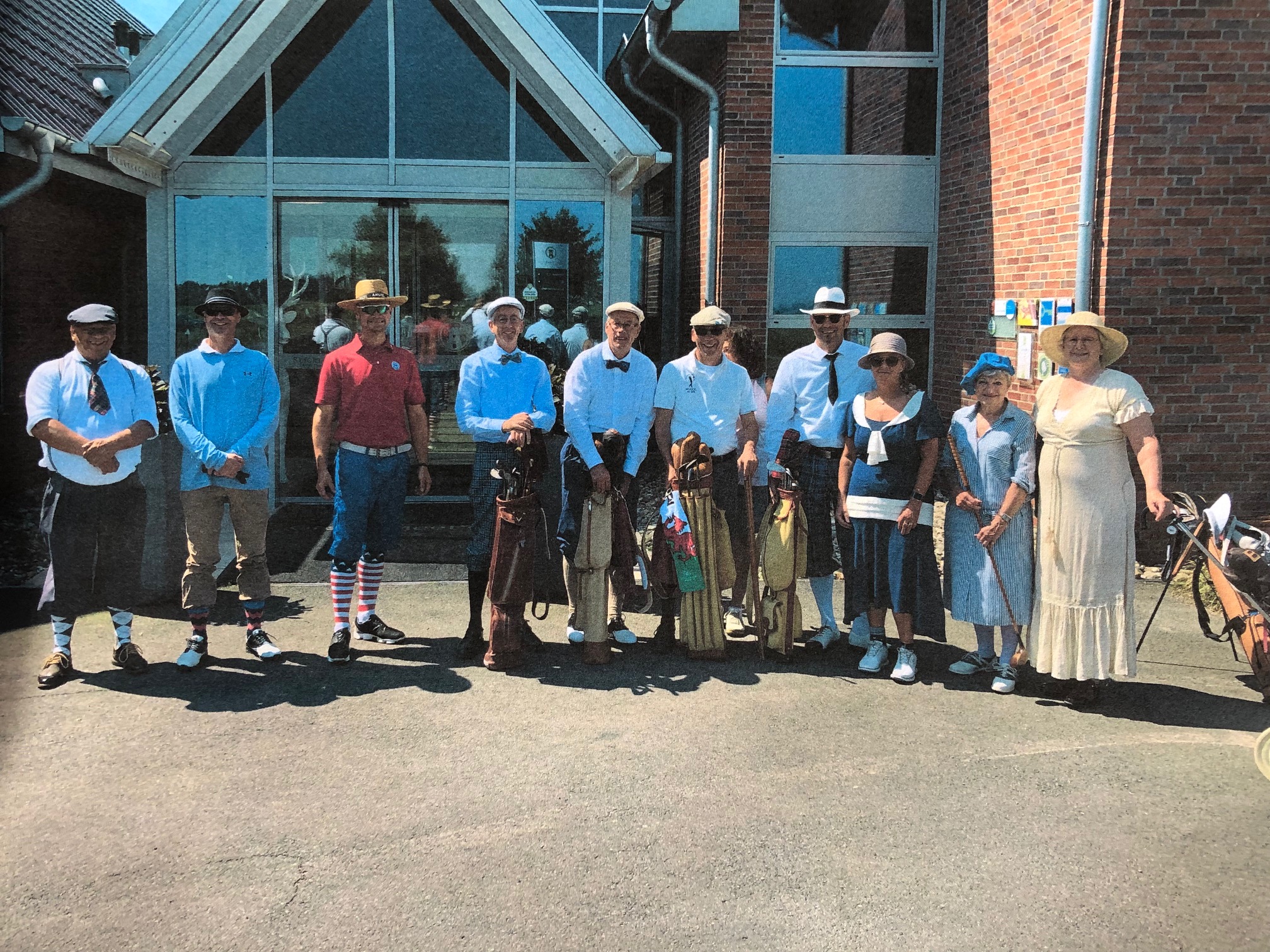 Dutch Hickory Tour 2019
Hoenshuis Hickory Experience
3 November 2019
Preliminary program
09:00    Welcome with coffee/tea and local pastry
09:45  Group photo
10:00  Start 18 holes Hickory Experience
17:00  Prize giving Hoenshuis Hickory Experience 2019 and Order of Merit 2019
18:30  One course dinner

Costs
Pro's and members Hoenshuis 30*
*: Dutch Hickory Society members receive a discount of €5,00
See below how to become a member of the Dutch Hickoory Society

Registration through Iain Forrester mail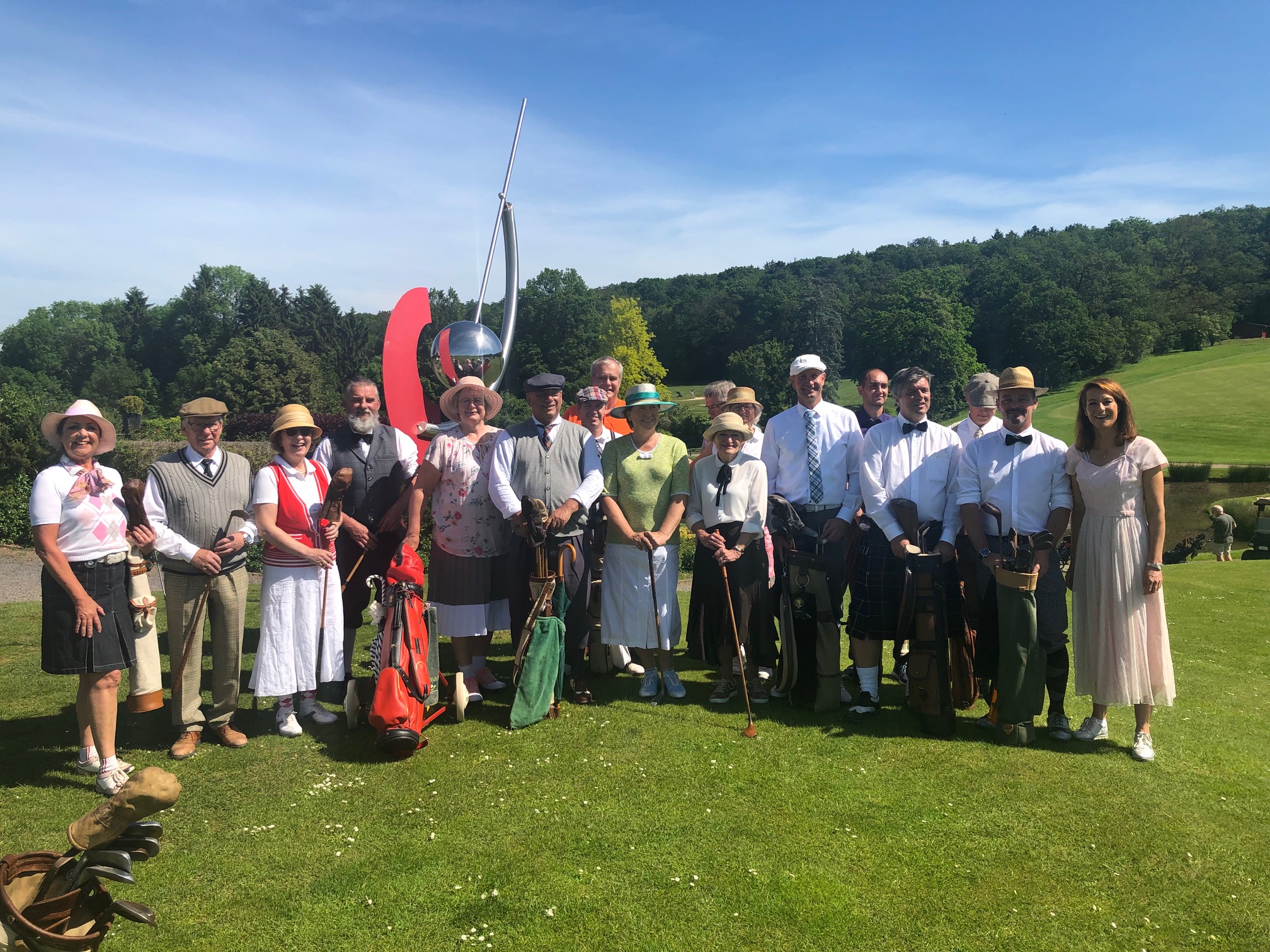 The 2nd International Hickory Open Championship at GC Burg Zievel
 The 2nd tournament of the Dutch Hickory Tour 2019 took place at the wonderful golf course of Burg Zievel under a clear blue sky.  
Due to the Ascension Day weekend a number of regular participants were not able to join us. This did not withheld the group that did participate to enjoy being there and experience the joy of the hickory game during the well organised day by Menno and Kirsten.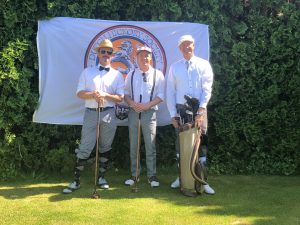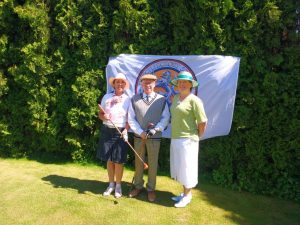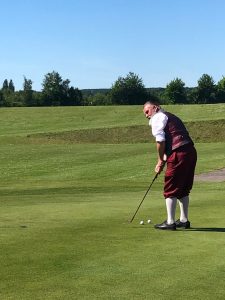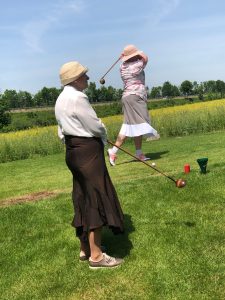 We congratulate the winners of the best scratch scores Monika Koch  and Davey van Mulken (with 3 magnificent  birdies, one of which nearly an eagle by 1 cm)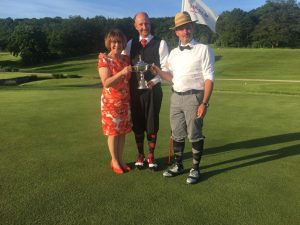 The best net score was won by Reiner Vosswinkel. 
The 1st Zuid-Drenthe Open Hickory Championship 2019
The 3rd tournament of the Dutch Hickory Tour 2019 took place at the Inland Links Course of Zuid-Drenthe under real Summer conditions.  
Twelve hickory fans took this first challenge to see and feel what 'Inland Links Course' means. It was GREAT: warm weather with a very nice breeze as if you were playing near the sea side. 
The course had the appearance and difficulties of dunes with its slopes, bunkers and the rough, and together with the variety of water hazards, this made the course a real experience for everyone.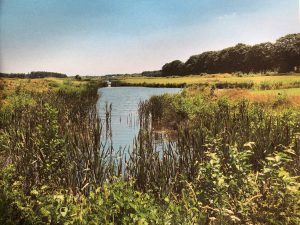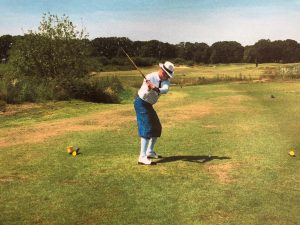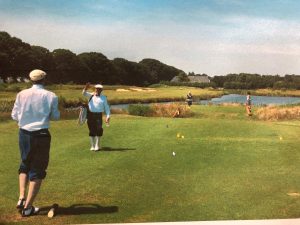 We congratulate the winner of the best scratch score Brian Gee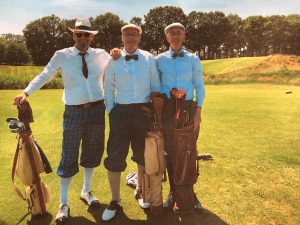 The best net score was won by Maria Vrijmoed-de Vries
After reading the above we are sure you are sorry you missed this event. Do not worry! It is highly likely you may get another chance to participate at this unique golf course and not to forget the very good hotel facilities, next year. We will keep you posted on this!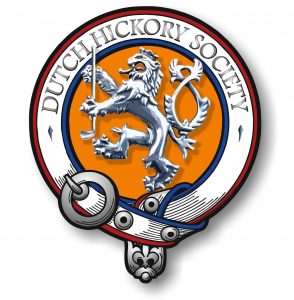 Dutch Hickory Tour 2019
 see details on the left side of the page.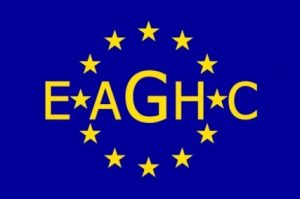 European Association of Golf Historians and Collectors
Open European Hickory Championship, 18 September 2019
GC Bleijenbeek, Afferden, The Netherlands
Programme
Registration Form
In het zesde toernooi van de Dutch Hickory Tour 2018 werd onder voor de 2018 zomer vreemde weersomstandigheden het Nunspeet Hickory Championship 2018 gespeeld. De deelnemers en deelneemsters lieten zich er niet door ontmoedigen. De verwarmende high-tea na afloop werd...
Lees meer
Het afsluitende tornooi van de Dutch Hickory Tour 2018 vond plaats onder werkelijk fantastische weersomstandigheden op de Domburgsche Golfclub. Winnaars: Bruto overall Iain Forrester Netto Heren Peter Scholtz   Netto Dames Helga Scholz...
Lees meer