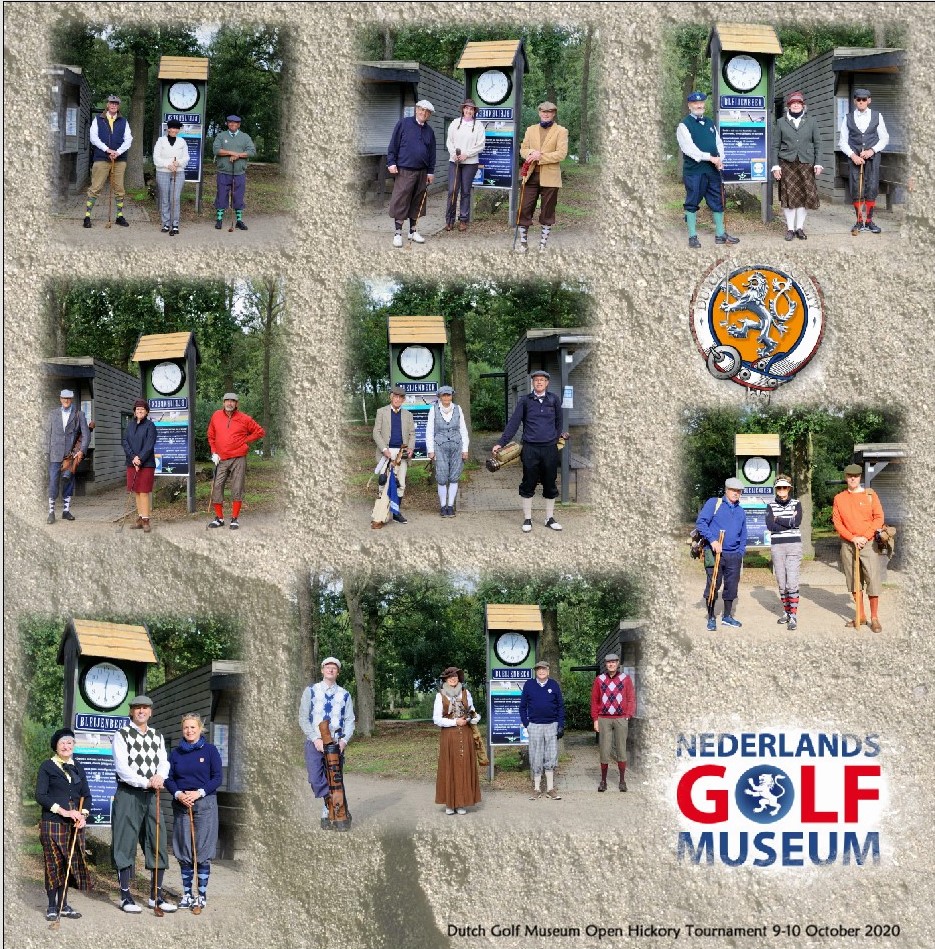 4th Dutch Golf Museum Open Hickory Tournament 2020
9-10 October 2020 Golf Course Bleijenbeek 
In these difficult times, we were very happy to be able to welcome 25 hickory lovers with coffee and danish pastry at Bleijenbeek Estate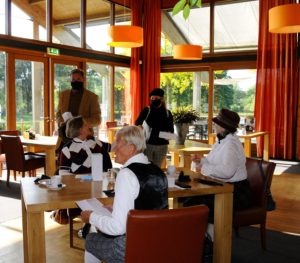 The tournament started with lots of sunshine in a magnificent environment.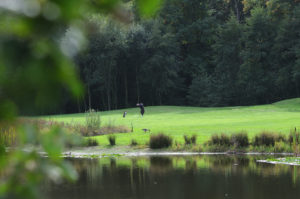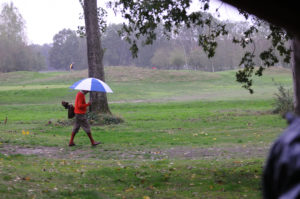 Notwithunderstanding a 'bit too much' rain at the end of the day, the spirits were good and the competition was strong. The results can be found here Gents and Ladies.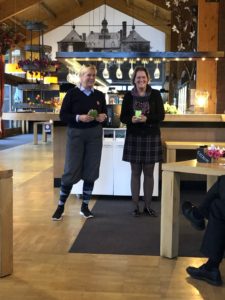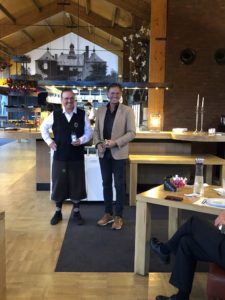 Netto winner Ladies Marjolijn Kempers (to the right), runner-up Petra Dudzus
Netto winner Gents Jan Hofsink (to the right), runner-up Olaf Dudzus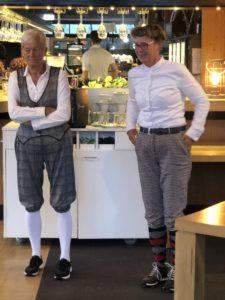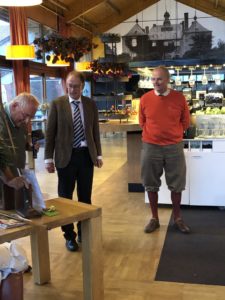 Gross winner Ladies Marja Kom (to the right), runner-up Ria Frenken
Gross winner Gents Brian Gee (to the left), runner-up Iain Forrester
 The day ended with a delicious shared-dining. Thanks to the Bleijenbeek staff for taking so good care of us in these difficult times!
 See you next year!
Report by Marja Kom, Gross winner Ladies Dutch Golf Museum Open Hickory tournament 10 October 2020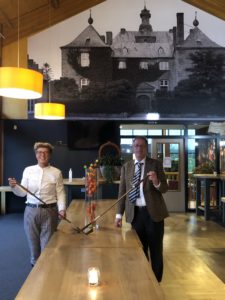 On Saturday 10 October 2020, the last tournament of 2020 by the Dutch Hickory Society took place at Golfclub Landgoed Bleijenbeek.
Despite the corona-virus around the Netherlands and Germany we still had several international competitors. Some of whom we had met the opening night before at a very nice dinner.
On Saturday morning we had a very friendly reception by the Dutch Golf Museum with a nice drinking bottle sponsored by Audi. 
It started as a beautiful day, but after several holes we really got wet.
Despite the weather we proceeded playing and trying to keep our clubs as dry as possible.
I have had the pleasure to play with pro Iain Forrester and Klaus Sasse from Germany.
The first nine holes I was not very pleased with my game, which proves that playing hickory remains difficult especially when you think you could make a very nice score. The following nine holes on the par 3-4 course I proved to be a little more in control.
Overall, my score seemed to be acceptable, but I did not have a clue what scores the other women in the contest did make.
Back in the clubhouse we got warmed up and after some drinks and snacks the pre-dinner results of the Tournament were to be announced.
The Gross winner Gents was Brian Gee and to my big surprise I was the Gross winner Ladies.
I had a little déjà-vu since in 2018 Brian Gee was also the winner as well as myself.
I would like to thank the very good organization by Ferd and Maria Vrijmoed as well as James and Angelica Fennell.
Geijsteren Open Hickory Championship 22 August 2020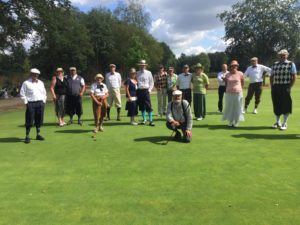 Finally, we were able to play the first tournament of
the Dutch Hickory Society 2020 on the GCC Geijsteren!
The company, the golf course as well as the weather were perfect.
4BBB was chosen as the game form in which the best net score
of a team of 2 players against par of the hole/course was recorded .
Winners were:  Wilma van Rijn en Marjolijn Kempers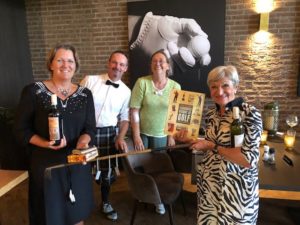 See also facebook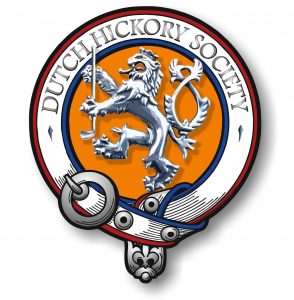 Dutch Hickory Tour 2020
 see details on the left side of the page.

12th German Open Hickory Championship 2020 link
Golfanlage Kallin bei Berlin
1. Iain Forrester 76 + 73 = 149 
2. Brian Gee 72 + 79 = 151 
3. Davey van Mulken 78 + 81 = 159




The Mondial Open International Hickory Tournament link
Houten, NL, 24 September 2020
The Dutch Hickory Tour 2018 Order of Merit is based on the total of a minimum, and when played more the best, of 4 scores of the 7 tournaments. The large number of participating gentlemen led to the decision to add a Gents Net Merit: Rank 1 Peter Scholz and Rank 2...
Lees meer
Het eerste toernooi van de Dutch Hickory Tour 2018 was ons eigen Dutch Golf Museum Open Hickory 2018. Een goede deelname waarbij door de moeilijkheid van de baan flink gestreden moest worden om de winst. Winnaars: Bruto heren Brian Gee Bruto dames Marja Kom ...
Lees meer
Het tweede, dit jaar nieuw toegevoegde toernooi aan de Dutch Hickory Tour vond plaats op The Dunes, Zandvoort. Op de uitdagende par 3/4 baan streed een select gezelschap om de prijzen. Winnaars: Bruto Perry Somers Als Nederlands Golfmuseum zijn we natuurlijk trots dat...
Lees meer